Snowpark St. Johann in Tirol
St. Johann in Tirol
Snowpark St.Johann in Tirol
-
Snowpark St.Johann in Tirol – Brand-new Freestyle Destination in the Leuken Valley
This year, the winds of change are blowing on the backside of the Kitzbüheler Horn. As of this season, the Snowpark St. Johann in Tirol will be maintained by QParks, Europe's largest operator of snowparks. Thus, the snow-reliable resort will have a professionally shaped Snowpark for all snowboarders and freeskiers – and it will be better than ever before. The brand-new Ski Movie Route is another highlight we're proud to present.
With its 60 kilometres of skiing tracks and its wide range of leisure activities, St. Johann in Tirol has always been a popular spot amongst winter sports enthusiasts. Freestyle maniacs rejoice, because as of this season, the Snowpark St. Johann will be in the capable hands of Snowpark designer and local Florian Hasenauer and his shapecrew. In the face of winter drawing near, everything's being prepared for the season of 2011/2012 at full blast. Thus, a snowpark will be created, which, thanks to its various boxes, as well as two kickers with a length of 4-8m with two jumps each, will be the perfect playground for riders on all skill levels. On top of that, a boarder cross with waves and steep turns will provide an extra amount of fun. But that's not all: another highlight in St. Johann in Tirol is the brand-new Ski Movie Route. This sophisticated installation enables all riders to be filmed during their runs, using their ski passes and a specific code. Afterwards they can access the visual material online and send it to their friends.
The freestlye community can rightly look forward to a thrilling and diverse season of 2012/2013 in St. Johann in Tirol.
---
Schnee- und Parkstatus
Leider keine aktuellen Parkinformationen vorhanden.
Aktuelle Informationen2021-04-06, 07:55
---
Snowpark St. Johann
Tengerszint feletti magasság

960 m

Hossz

476 m

Elemente

14

Area

Snowpark St. Johann - Set-up:
You can expect six kickers with tables from 5-7m, three butter boxes (Flat, Rainbow, Up/Down), one flat/down box (7m), one 3m long tank and a 7m long down rail.

Elemente

| | |
| --- | --- |
| | Down Rail (Rail) |
| | Flat-Down Box (Box) |
| | Kicker (Kicker) |
| | Kicker (Kicker) |
| | Kicker (Kicker) |
| | Kicker (Kicker) |
| | Funslope: Banked Run (Kicker) |
| | Funslope: Flat Butter Box 3m (Box) |
| | Funslope: High Five (Specials) |
| | Funslope: Kicker 3m (Kicker) |
| | Funslope: Kicker 3m (Kicker) |
| | Funslope: Kicker 3m (Kicker) |
| | Funslope: Schnecke (Specials) |
| | Funslope: Waverun (Kicker) |
---
Weitere Informationen
Park Size

S

Total

12

Easy

Public

Pro
Videók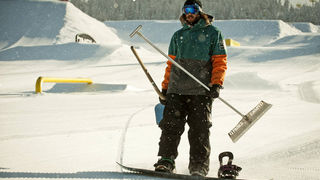 03:25
01:57
02:24
Webcamek