Alpenblick
3984 Fieschertal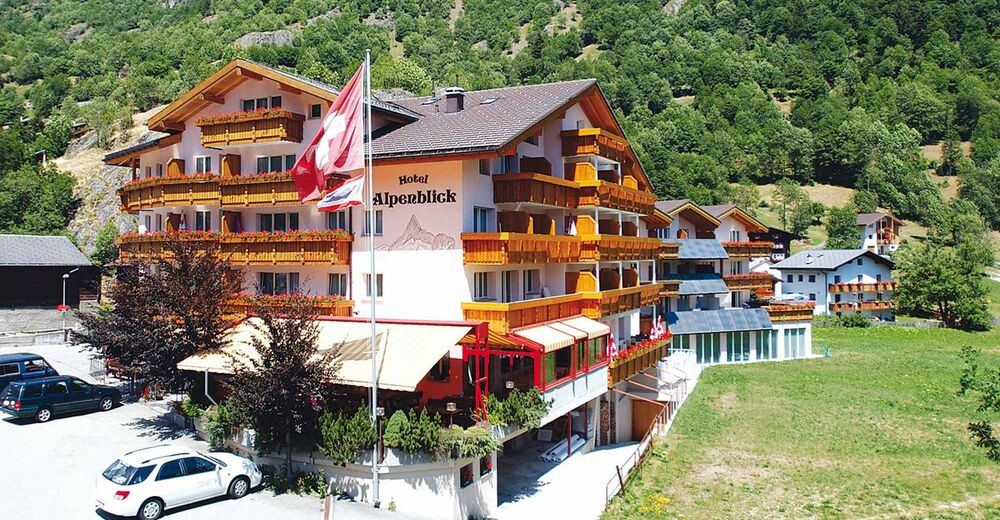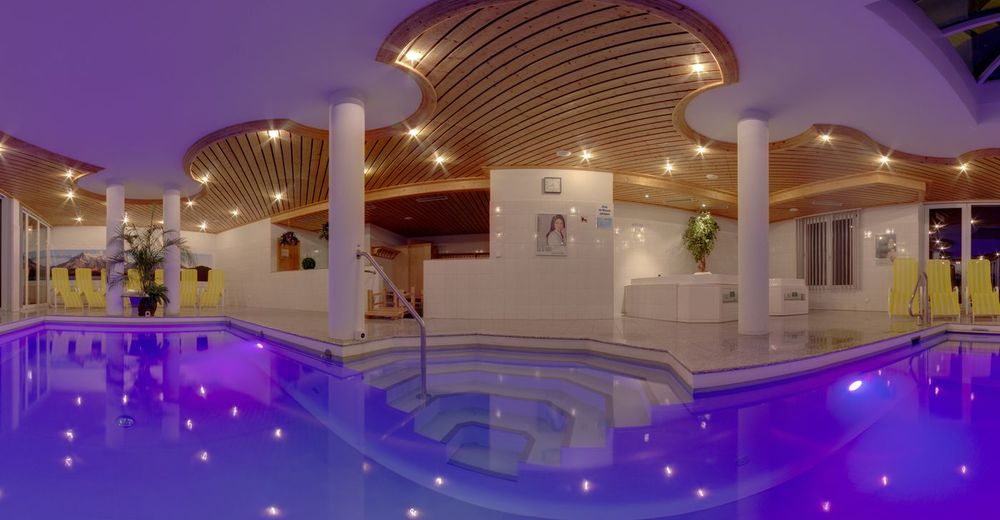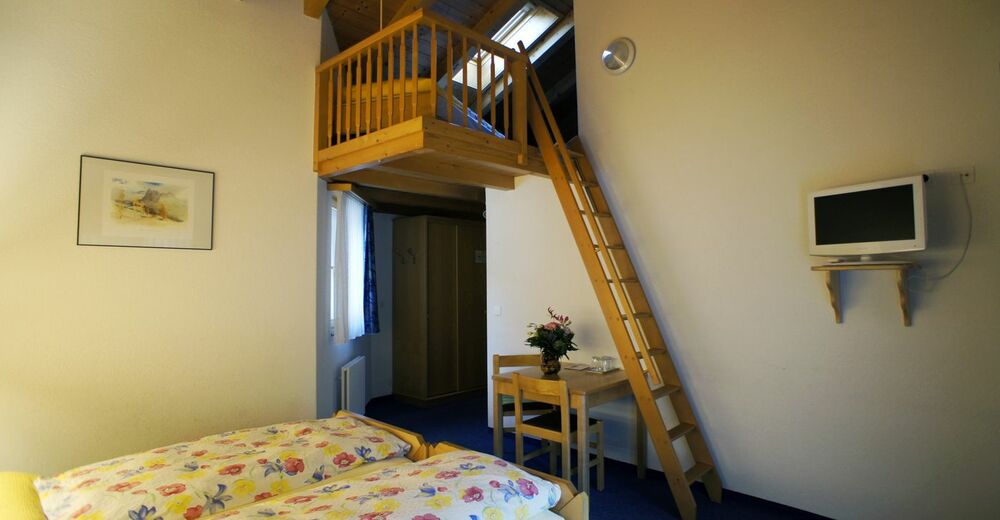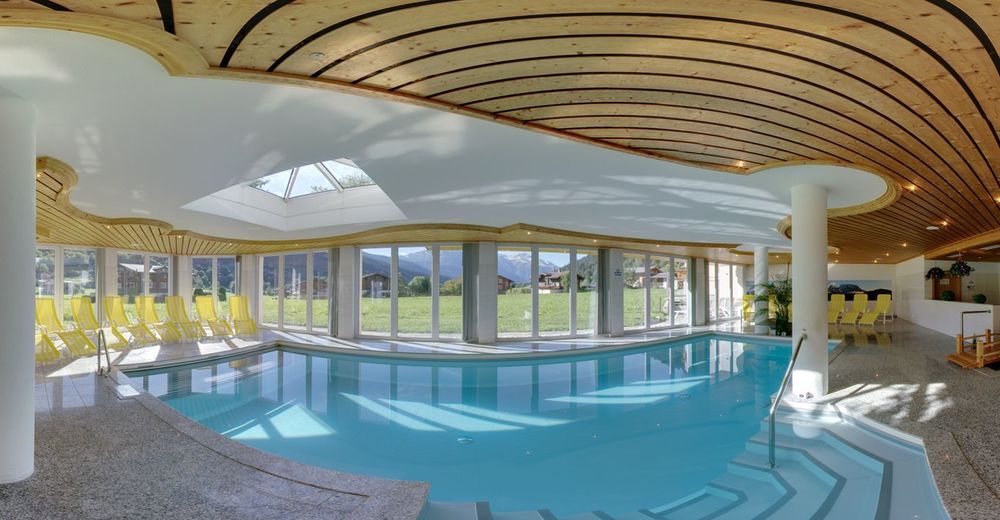 Herzlich Willkommen im Hotel Alpenblick!
Just like Wallis is suprising you with its diversity, so you will be suprised by the versatility of the Alpenblick Touristik GmbH in matters of vacation, recreation, service and servitude.
In Fieschertal 1111m. offers the Alpenblick Wellnesshotel*** you a rich range: from a simple room till a modern suite, cozy familyroom, a fine A-la-carte Restaurant with terras, a complete wellnesscenter with spa and beauty parlor even a grocery store in the hotel.
On the Fiescheralp 2222m. you have the opportunity to visit the Restaurant Bergfreund where you have not only the finest panoramic view of the Walliser mountains but also can get your daily necessities in the Shop Berg + Tal
At our family bussines you can also rent vacationhomes and Chalets; In house Bergfreund on the Fiescheralp, also nown as "Chiebode", we rent 10 homes in the immediately surroundings of the ski and hiking region the Aletscharena. In Fieschertal we rent 3 more vacationhomes in our chalets close to the Wellnesshotels Alpenblick. We guarantee you a relaxing vacation.
Hotel rooms in Fiesch Valley
Al rooms are equipped with shower, toilet, Sat-TV, phone, alarm clock and blow-dryer. In the room rate is the use of the underground parking and the use of the wellness enter (pool, sauna, steam bath) included.
Wellness
Indoor pool (29°)
3.5 x 9 m with waterfall shower and build in bubble seat. For a relaxing bathing experience after a wonderful ski day or a exiting bike tour.
2 Freshwater-Whirlpools (39°)
Single person tubs to guaranty a hygienic bubbling massage for the whole body.
Sauna (83°)
for max. 5 persons. A Finnish sauna with herbal infusion for a good health and free breathing. Afterwards a cooling dive in the barrel filled with cold glacier water.
Aromatic steam bath (40°-50°)
for max. 8 people. With a simple push of a button you can add different aromas to the steam like; pine, alpine herbs, orange/mandarin or camomile.
The offer of the wellness centre, except the coins for the solarium (Fr.15.-/25min) and whirlpool (Fr.3.-/10min), is for the hotel guests in the room price included.
Videos
03:40
03:35
Allgemeine Verfügbarkeit
Alpenblick
kérésre
rendelkezésre áll
KW
h
k
sze
cs
p
szo
v
1
2
3
4
5
6
7
8
9
10
11
12
13
14
15
16
17
18
19
20
21
22
23
24
25
26
27
28
29
30
31
Ajánlatok Nyár
Alpenblick
aktív üdülés / családi üdülés / gyalogtúrás üdülés
Gültig -tól 05.06.2021 -ig 24.10.2021
7 Éjjelek: 05.06.2021 -ig 30.06.2021 / 7 Éjjelek: 01.07.2021 -ig 30.09.2021 / 7 Éjjelek: 01.10.2021 -ig 24.10.2021
Sun, hegyek, buja rétek és rengeteg jég: Fedezze fel az UNESCO Világörökség Swiss Alps Jungfrau-Aletsch és központi, a Nagy Aletsch gleccser! Sehol sem olyan szép, hogy nézd meg a Eggishorn (2926 m...
Árak
| Tél | Főszezon | Vor-/Nebensaison |
| --- | --- | --- |
| Éjszakázás | - | - |
| reggelivel | 150 CHF -ig 190 CHF | 120 CHF |
| Félpanzió | 220 CHF -ig 260 CHF | 190 CHF |
| All-inclusive | - | - |
| Nyár | Főszezon | Vor-/Nebensaison |
| --- | --- | --- |
| Éjszakázás | - | - |
| reggelivel | 150 CHF -ig 190 CHF | 130 CHF -ig 170 CHF |
| Félpanzió | 220 CHF -ig 260 CHF | 200 CHF -ig 240 CHF |
| All-inclusive | - | - |
További információk
Double standard
(Zweibettzimmer)
családi szobák
(Familienzimmer)
Szobák/Appartmanok