Val-d'Illiez
Located in the heart of the valley that bears its name, the village of Val d'Illiez has been a place of gathering and exchange from time imme morial. On one side of the road, the church's soaring bell tower stands guard under the protective shadow of the Dents du Midi. On the other side, two ancient granaries are proof of the importance of farming and commerce in the community.
As traffic through the valley sped up over time, the tiny village might simply have faded into history, had it not been for a providential event in 1946. After an earthquake shook the valley, locals noticed that water had begun to seep up through a fault in the earth not far from their village. Not only that, but the snow melted faster in that particular area. Val d'Illiez had witnessed the birth of a hot spring! Today, the spring has become an extensive thermal bath complex with warm pools, a spa area and a river of naturally heated mineral-rich water set in a lush oasis of gracefully landscaped gardens.
After a long day on the slopes or spent hiking the mountains, Val d'Illiez is a haven to come home to!
Les Crosets
Les Crosets is a bustling hotspot on the Swiss side of the Portes du Soleil ski area and a hub for direct connections to the other Swiss and French resorts.
Here, you'll sleep soundly at the very foot of the slopes. As the sun breaks over the mountaintops, you might even be the first to make your mark on last night's fresh fallen snow, but the solitude is as ephemeral as your tracks. Everybody passes through here at one time or another, from wobbly debutants getting their ski legs in the beginner areas to pint-sized adrenaline junkies and pro freestylers at the famous Superpark.
In summer, Les Crosets is your jumping-off point for countless biking and hiking expeditions. All you have to do is step outside, choose a trail and the Portes du Soleil is yours for the taking!
Champoussin
Protected by a circle of soaring alpine peaks, Champoussin is known for its exceptional vistas, the most famous of which is a dramatic, front and centre view of the Dents du Midi. Peaceful and down-to-earth, this is the perfect place to stop and smell the flowers and get to know the friendly marmots, goats and other furry locals.
Dotted here and there with wetland areas, Champoussin's landscape of verdant pastures is gentler than in the neighbouring villages. The south-facing hillsides seem to catch and collect every last ray of sun, nature is understatedly opulent and life is entirely unrushed.
Hidden under a thick mantle of pristine snow in winter, the rolling topography and vast meadows provide the ideal terrain for beginner skiers.
---
Szabadidős tippek
Val d'Illiez - Les Crosets - Champoussin
Összes szabadidős tipp megjelenítése
---
Kapcsolat
Val d'Illiez - Les Crosets - Champoussin
Val-d'Illiez - Les Crosets - Champoussin Tourisme
Place du Village, CH-1873 Val-d'Illiez
Telefon

FAX

Honlap
E-Mail
---
Kapcsolat
Hegyi pályák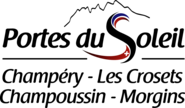 Portes du Soleil Suisse SA
Route de la Fin 15, CH-1874 Champery
Telefon

FAX