Szállások
Alpenhotel Kindl
- Neustift im Stubaital
Alpenhotel Kindl
6167 Neustift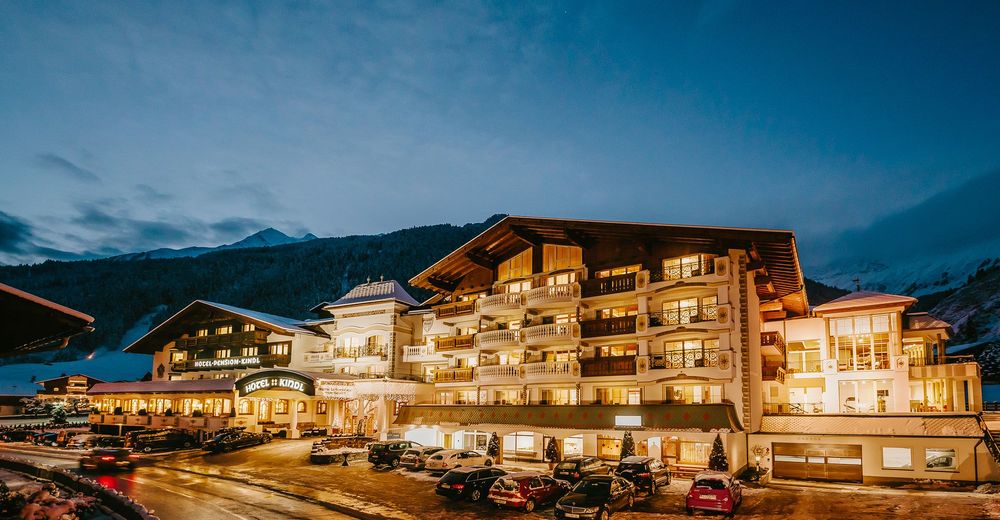 © ANDRE SCHOENHERR - Andre Schönherr
© ANDRE SCHOENHERR - Andre Schönherr
© ANDRE SCHOENHERR - Andre Schönherr
© ANDRE SCHOENHERR - Andre Schönherr
Escape the Daily Grind
ESCAPE THE DAILY GRIND
Welcome to the Alpenhotel Kindl. Owned by the Kindl Family, the hotel is situated in the beautiful village of Milders, 1.5 km from the centre of Neustift. Guests can relax and unwind in an oasis of peace (far away from noise and stress), or take part in one of the numerous holiday activities in the region. Race down glistening white ski slopes or join a relaxed hiking tour in fresh mountain air. Whether you arrive in summer or winter one thing is certain: you have come to the right place! Last, but not least, our authentic Tyrol cuisine offers you an opportunity to savour some of the most memorable food and wine you will ever have on holiday. Spend your next holiday in one of our idyllic hotels situated high in the Alps.
INCLUDED IN THE PRICE
Culinary masterpieces
Generous gourmet breakfast buffet with everything your heart desires
Afternoon buffet with a main course or soup, Stubai snacks, homemade apple strudel and tempting desserts, influding soft drinks, tea and coffee station
A 5-course dinner menu with 4 main courses to choose from, from Austrian classics to vegetarian dishes, salad and cheese buffet
Two children´s dishes from the buffet to choose from and ice cream from our ice box
Supervised children´s lunch and dinner
Weekly farmer´s buffet with Tyrolean delicacies
Spa highlights
Kindls water world with indoor pool, children´s pool, relaxation room and textile saunas for families
Fun water area with Trio-slide, 32 m long tube slide and water park
Infrared lounge and garden lounge
Kindl´s textile free sauna world with Finnish panoramic sauna, BIO herbal sauna, steam bath, snow shower, panoramic whirl pool and exclusive relaxation area with spa loungers and hanging beds
Winter Highlights
Gratis shuttle service to the ski resorts in Stubai valley
Access to cross country skiing lanes and winter hiking trails just next to the hotel
Ski cellar and ski boots dryer
Vacation Fun for the Whole Family in Winter
Indoor playroom for child care suffused with light (ca. 60 m²)
New playroom for adults and children with softplay system, table soccer, and games table "Fun for Four"
Baby care 6 days per week from 9 a.m. until 3 p.m. (0-3 years)
Child care 6 days per week from 9 a.m. until 9 p.m. (from 3 years)
Inclusive services for children
...Other Highlights
Free WIFI connection everywhere in the hotel
Live-music-evenings at the hotel lobby
High quality fitness room with view on to the mountain peak "Elferspitze"
Rendelkezésre állás Alpenhotel Kindl
kérésre
rendelkezésre áll
nem elérhető
Ajánlatok Tél Alpenhotel Kindl
Ajánlatok Nyár Alpenhotel Kindl
síbérlettel / specialitások / sí-általány
4 Éjjelek: 08.01.2022 -ig 27.01.2022
Experience a true winter fairy tale at the Alpenhotel Kindl! Explore the Stubai Glacier ski region, be pampered in the spa area, just take time out to relax and spend a carefree winter holiday in...
Árak
| Tél | Főszezon | Vor-/Nebensaison |
| --- | --- | --- |
| Éjszakázás | - | - |
| reggelivel | 98 € -ig 200 € | 88 € -ig 133 € |
| Félpanzió | 108 € -ig 210 € | 98 € -ig 143 € |
| All-inclusive | - | - |
| Nyár | Főszezon | Vor-/Nebensaison |
| --- | --- | --- |
| Éjszakázás | - | - |
| reggelivel | 78 € -ig 120 € | 70 € -ig 110 € |
| Félpanzió | 88 € -ig 130 € | 80 € -ig 120 € |
| All-inclusive | - | - |
Die angeführten Tagespreise verstehen sich pro Person und Tag einschließlich der kulinarischen und enstpannenden Highlights.