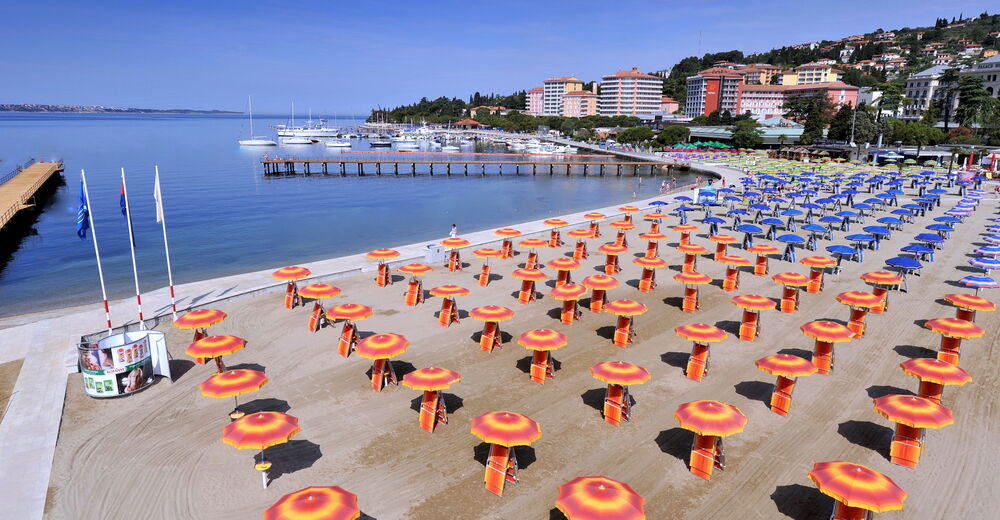 Sea, wind, salt, Mediterranean aromas, palm trees, roses and evergreens, relaxation, fun and friendliness are the words that best describe Portorož, a coastal town at the heart of Europe.
The interplay of different cultures and music, natural setting, gastronomic delights, and chequered history make for an atmosphere that makes us put our daily worries aside and just relax. Leisurely strolls by the sea, refreshing jogging on the beach, swimming in pools and the sea, beauty and health care programmes at thermal spas, sports and recreation revitalise the body and soul.
Portorož is closely connected to nearby Piran, a small medieval town whose fame and fortune come from one of the largest saltpans in this part of the world. Today mostly abandoned, the saltpans now provide shelter to numerous bird species to nest or stop during southbound migration. It is the saltpans and their natural elements - salt, brine, and fango mud - that spurred the development of tourism in Portorož. When healing properties of these natural elements were discovered as early as the 19th century, Portorož got its first hotels and thermal centres.
Today Portorož is popular place to work, relax and have fun. After all, Portorož boasts a large number of comfortable hotels with modern pools, a wide range of restaurants with different varieties of cuisine, and popular events.
The town is also a well-known convention centre. Numerous seminar and convention halls, some of which can accommodate up to 1500 people at a time, play host to prominent local and international meetings and events. There are casinos too, where many try their luck with bouncing roulette balls, rustling playing cards and clanking slot machines.
Quelle: www.slovenia.info/en/Orte-Sloweniens/Portoro%C5%BE-.htm?_ctg_kraji=2654&lng=2&redirected=1
---
Szabadidős tippek Portorož
Összes szabadidős tipp megjelenítése
---
Kapcsolat Portorož
TIC Portorož
Obala 16, SI-6320 Portorož
Telefon

FAX

Honlap
E-Mail
Helységek Adria Küste / Karst Region
Webcamek